pushachairs prams strollers buggies joggers
Regular price
Sale price
£25.95 GBP
Unit price
per
Sale
Sold out
The tyres feature an Easy Rolling tread design for easy pushing. Perfect for everyday use.
A set of 2 replacement tyres suitable for pushchairs, prams, strollers and buggies with tyre size 12½ x 2¼
Set includes:
2 Tyres
Size: 12½ x 2¼ (57-203)
Color: Black
Tread Style: Easy Rolling
Fitting Instructions
Useful tips and advice on fitting tyres and inner tubes.
Suitable for:
Babystyle Oyster
Bebecar
Bugaboo Cameleon
Bugaboo Frog
Bugaboo Gecko
Emmalijunga
First Wheels
Hauck Jeep
Kiddicouture
Maclaren
Maxi Cosi Mura (rear wheels)
Micralite Superlite Fastfold
Micralite Toro
Mothercare Movix
Mothercare My3/My4 (rear wheels)
Mothercare Xtreme (rear wheels)
Mutsy Buggy
Obaby Zezu
Quinny Buzz
and more.....
*These tyres are the genuine Hota product used by many leading manufacturers including: OutnAbout, Quinny, Mothercare, Maxi Cosi.....
View full details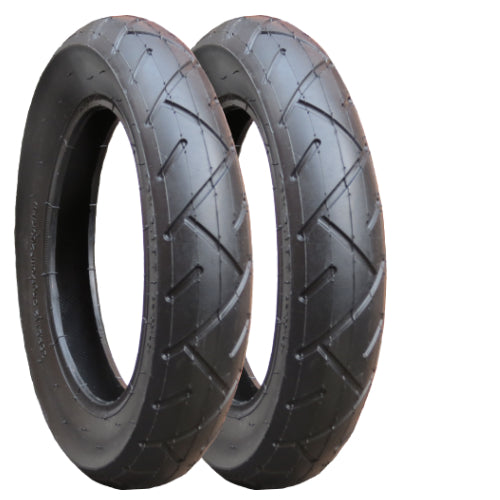 Welcome to PramTyres
pramtyres.com is one of the UK's leading suppliers of tyres, inner tubes and puncture preventing products for pushchairs, prams, strollers, running buggies and jogger style prams. Our products are suitable for most makes and models including Baby Jogger, Baby Trend, Bob, Bumbleride, Graco, Hauck, Joovy, Mountain Buggy, Out n About, Thule, Phil & Teds, Bugaboo, Venicci, Quinny.... Our parent company, On Yer Bike, was a specialist cycle shop which operated from it's Peterborough premises for more than 40 years. In 2017 On Yer Bike decided to close it's highstreet cycle shop and move into new premises to concentrate on it's online business which itself has been operating for over 15 years. No minimum order and fast, low cost delivery in the UK.